East Clare is home to a pair of rare White-tailed Eagles.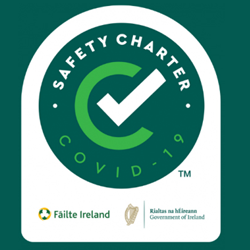 We take all of the neccesary Covid 19 precautions when you stay with us and we are part of the Safety Chartered COVID 19.The Safety Charter demonstrates to our visitors that we are operating in line with current Government public health advice and with safety and cleaning protocols in place.
Subscribe To Our Mailing List For 10% Off Your First Stay
Save 10% off your stay by subscribing below. We will keep you updated with special offers and other deals.